Karaoke SuperStar 4 DVD Package
Fedex Overnight Delivery Option Or 2nd Set Discounted Offer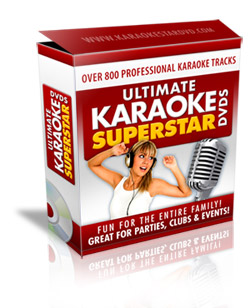 You are about to place an order for the Brand New Karaoke Superstar 4 DVD Package with worldwide Fedex overnight shipping (1-2 working days)
You'll pay an extra $30 for express shipping.
You can also choose the discounted offer for 2 sets (standard shipping)



Save 50% on the second set!

You only pay $30 extra when you order 2 sets
of Karaoke Superstar 4 DVD package now. (standard shipping)

When you click this button you will be taken to a secure order page where you'll enter your credit card details. Your payment information is protected by PayPal's 128 SSL secure servers.



Common Question: I understand I'll save 50% on the second set but why do I need 2 sets?

Answer: Your second set of Karaoke Superstar DVDs makes a great gift to a friend or colleague who enjoys karaoke. You can also use the extra set as a "backup copy". Having an extra set saves you the potential hassle and provides you with a peace of mind.

As such, it would be wise to take advantage of this 50% offer on the second set now while it lasts.