Huge Affiliate Opportunity - $33.50 Per Sale!



" Earn 50% Commission on This INCREDIBLY High Converting And Best Selling $67 Package! "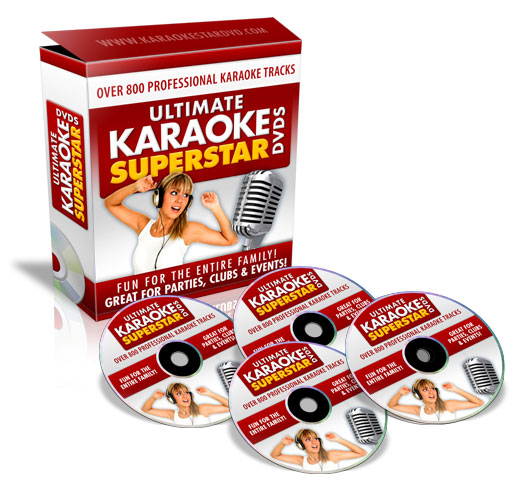 You Get 50.00% of Every Sale Of Our $67 Karaoke Package!


It's very simple to earn commissions by promoting our site.

KaraokeStarDVD 4 Disc Pack sells for $ 67.00 USD with OTOs and upsells. For every sale you refer to us, we will pay you 50.00%. Thats $33.50 per sale and you do not even have to ship the product!


Our initial tests converted as high as 9.6%! That's nearly 1 in every 10 targeted visitors buying.


Our top affiliate earned $12,500 from 1 mailing to his list

Here Is How Much You Can Expect To Earn:
| | | | |
| --- | --- | --- | --- |
| Sales Per Day | Income Per Day | Income Per Month | Income Per Year |
| 1 | $33.50 | $1005.00 | $12,060.00 |
| 3 | $100.50 | $3,015.00 | $36,180.00 |
| 5 | $167.50 | $5,025.00 | $60,300.00 |
| 12 | $402.00 | $12,060.00 | $144,720.00 |

(Please note, it does not matter how our customers pay us for you to get paid. You do not have to have an account with the merchants listed above ( PAYPAL ) to participate. All you do is promote our service with your custom affiliate link and we will pay you all your commissions via: PAYPAL .)

Lets Get Started:


KaraokeStarDVD uses PayDotCom.com to manage our affiliate program. We will provide you with great tools to sell our product easily. We also provide you ways to track your hits, sales, campaigns, and commissions. All you need is a free PayDotCom.com affiliate account ID.
Unlike other affiliate programs, PayDotCom uses lifetime cookies and is not session based. This means that PayDotCom.com will even credit you for sales even if your buyer does not buy on the first day. So even if they come back years later, you still get paid. We always pay the last affiliate who referred the customer to us.
Who pays me?
We will pay you all your commissions via: PAYPAL
When do I get paid?
Once a month ends it is closed. We will pay you all your commissions due between the 15th - 30th of the following month. Our payment will be administered by PayDotCom so expect payment to be always on time.
How do I promote?
Once you become an affiliate you get your own "Affiliate Link" to promote. All you do is promote the unique URL that we give you. Then you can advertise it using your website, banners, your own opt-in list, etc... When people come here you get paid a whopping 40.00% on Level 1 commission for every sale! We'll do all the shipping for you!
A few ways to generate traffic:

You can promote the guide in a number of ways:

1) An email to your list of subscribers. Include your affiliate link in your message.

2) Write Karaoke related articles to submit to directories with your affiliate link.

3) Post the link on your blog

4) Write and distribute a press release. You can use PRweb.com or any other service to distribute the release in which you include a favorable review of the guide, and your affiliate link. If you can't whip up an effective one-page release in a few minutes, use Writerlance to get one written for you for a few bucks.

5) Attach the affiliate link on My Space


6) Go to karaoke and music forums. Frequently contribute to popular threads there. Be sure to go into your forum profile and edit your signature to include your affiliate link. So every time you make a post, anyone who sees it will see your signature and your affiliate link.

7) Pay Per Click Marketing

If you're looking for a list of keywords you can use to start promoting my courses RIGHT AWAY, look no further. I'm offering you an extensive keyword list to help get you started right away - no need to waste your precious time doing keyword research.

Banners You Can Use:


Techniques for the more aggressive advertisers:

1) Write a review telling people know how great it is. Include your affiliate link at the end of the review. Post your review to free sites such as GoArticles.com & EzineArticles.com

Create a free blog at sites such as Blogger.com, and post your review of the guide, including your affiliate link. Then "ping" your blog at a site such as Pingomatic.com, so it gets picked up quickly by search engines.

2) For the serious marketers seeking for a significant income online, you can use Google Adwords to bring in targeted traffic to your link.
I'm In Rachel! How Do I Sign Up?
- Don't have a PayDotCom.com account?
Step 1: If you do not have an account with PayDotCom.com then Join Now now and create an account right now for free.Step 2: Then just go to the next step below to access our affiliate members area to start earning income now.
- Already have a PayDotCom.com account?
If you have a PayDotCom account, just Login to our affiliate members area right nowAt the members area, you'll receive your own link to promote VST Platinum. Every time someone buys the product using your link, you'll get your 50% commission.

* Processing fee - PayDotCom.com will charge you a small fee for each sale. This fee will automatically be deducted from your commission and will be paid to PayDotCom.com by us on your behalf. This is all automated and done for you. The small processing fee is based on the price of each sale as follows. $0.50 (sales under $10), $1.00 (sales from $10.01 to $20.00), $1.50 (sales from $20.01 or more).

Any questions regarding the affiliate program feel free to Contact Us
To Your Affiliate Success!

Rachel Patterson
KaraokeStarDVD.com
Home -FAQ - Affiliates - Contact Us - Shipping & Handling
Privacy Policy - Terms and Conditions - About
KaraokeStarDVD.com
Rachel Patterson
108 St. David's Lane
Richmond, VA 23221
United States