Top 10 Most Popular Karaoke Songs
Sharing is caring:


1) Teeny Weeny String Bikini
"This is your night, everything is right!"
2) Touch Me
"Touch me, touch me, I wanna feel your body!"
3) Livin' On a Prayer
"great song to sing in a group! funny because of the high parts at the end"
4) Ding Dong Song
"Come an, sing with me! Ding Ding Dong forever!"
5) Billie Jean
"Everybody loves Michael..."
6) All By Myself - Celine Dion
"All By Myself was originally sung by Eric carmen and I just knew that guy when Celine Dion remade this song and made it a #1 hit! Cleine's version of this song is really amazing.
7) To Love You More - Celine Dion
"This song has a great introduction and will really take your breath away."
8) Don't Stop Believin' - Journey
"easily the best song to sing in a group with…"
9) Hotel California'
"Welcome to the hotel california.."
10) YMCA
"Who doesn't know this song ?!"
Do you agree with this list? Send me an email if you think otherwise!
Sharing is caring:


Get Over 800 Of The Best
Karaoke Songs On 4 DVDs
Start Singing! We Supply The Hits!
>> 800 Best Karaoke Songs Of All Time - 4 DVDs <<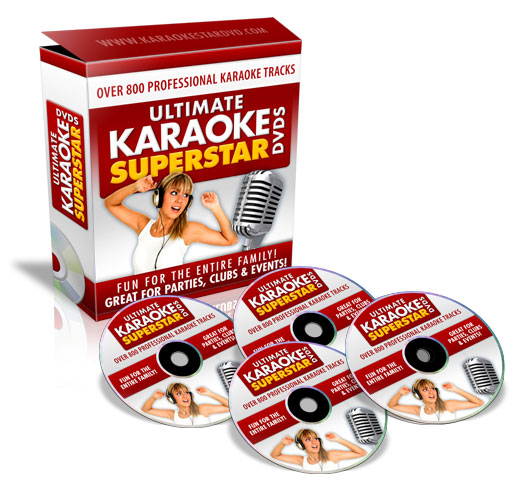 Rachel Patterson
KaraokeStarDVD.com

Home -FAQ - Affiliates - Contact Us - Shipping & Handling
Privacy Policy - Terms and Conditions - Partners - About - Articles
KaraokeStarDVD.com
Rachel Patterson
108 St. David's Lane
Richmond, VA 23221
United States